Resilience, Chakras & 'Holding the Light'
Posted on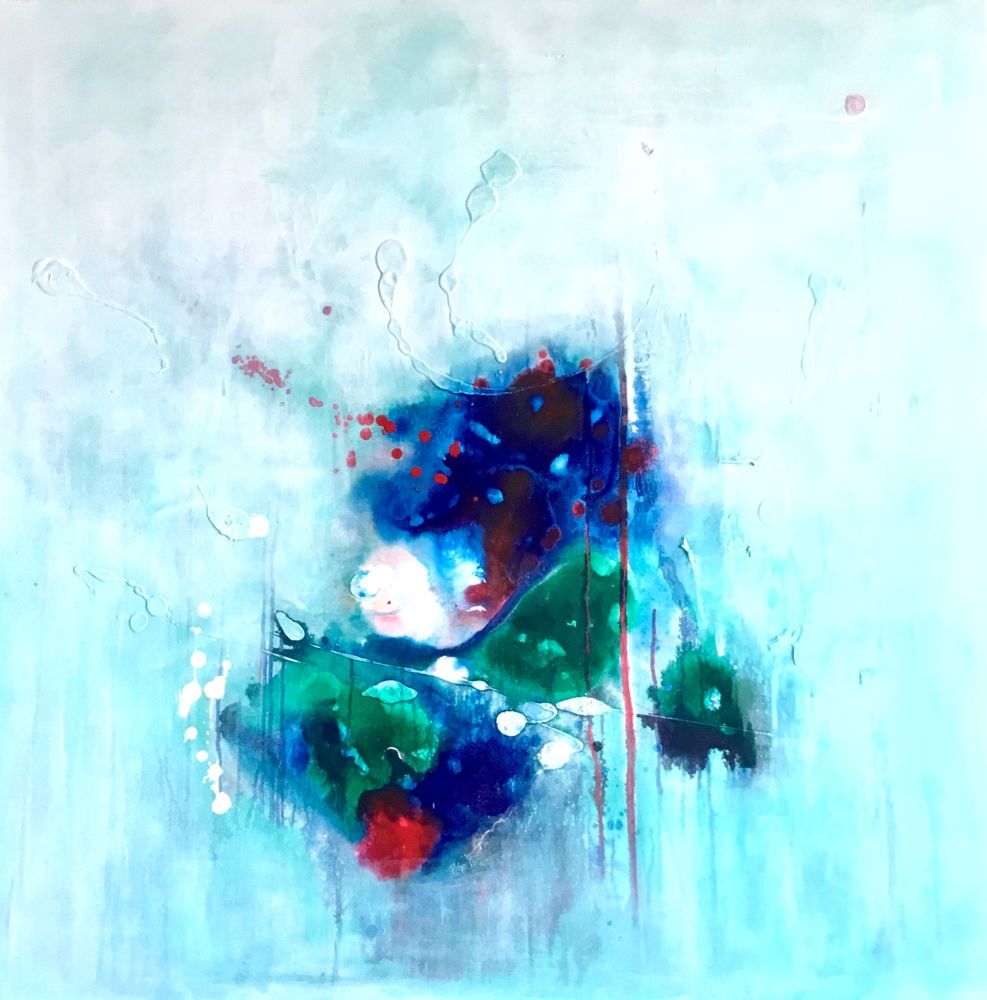 My latest painting above is yet to have a title.
For me it is about holding compressed life force energy within a sea of light.
How are you? I am wondering about this because I know from my work with clients that many people are really struggling with their mental health at the moment. We are at a stage with this pandemic that is demanding a kind of resilience that I doubt many of us have needed to find in our lives before. And of course you may be grieving because you've lost someone to Covid, or you may be physically unwell yourself. You may be stressed out from working from home in a confined space or homeschooling children. You may be concerned about vaccination, have had your first jab, or wonder when you will get the invite for one. You may be preoccupied with fears about our planet's future and therefore our own.
It's at this time that I'm finding that an awareness of a bigger picture - an openness to greater consciousness - is really helpful with keeping up resilience. Personally I believe what we are going through is essential to the development of human consciousness.
For a long time I have held the belief that the human species is struggling to grow into Heart chakra energy from the Solar Plexus. We know that one aspect of solar plexus energy is power and its use – politically, socially and within personal relationships. We see plenty of examples of its misuse – as if the worst aspects of human nature are presented starkly right in our faces – Trump, Putin, internet trolls, domestic violence and so on. The Heart chakra demands a shift of consciousness into respect and acceptance of both our unique differences and everything that unites us. Every single human being is part of nature and needs food, shelter, warmth and love. None of us are separate from anything else. I believe it is this knowing that supports us to be strong in the face of adversity.

This pandemic is challenging us to move into heart chakra consciousness and for the human species it's a struggle. But I believe we will do it. It may be messy and happen in different ways in different parts of the world but nothing will be the same. Through every crisis in human history we have learned new lessons and discovered more knowledge. I believe that those of us involved in healing have a responsibility to 'hold the light' – to a degree that in our present life time we haven't needed to do before now or certainly not since WWII.

I will be running an on-line zoom session on these themes on Tuesday 16th March, 5.30-7pm (GMT). This will be an opportunity to:
share your thoughts on the 'Covid-19 bigger picture' with like-minded people,

explore the learning that is taking place personally, socially and spiritually

do some personal chakra focussed work to strengthen your resilience

explore the shift of solar plexus and heart chakra energies

experience a meditative process which I will talk you through
Remember as an added benefit each meditative visualisation process will be recorded and emailed to you as a resource for you to continue to use if you wish to. And some recent feedback from previous on-line sessions:

"I feel very relaxed. I really enjoyed it. I feel calm."
"It was a really positive experience."
"It strengthened my sense of myself."
"It was fascinating … "
"I've never experienced anything like it."
"I'm really pleased to have been given another way into having a sense of myself."
"It's nice to feel grounded."
Booking & Payment:
We will be meeting on Zoom and there will be a maximum of ten participants. The cost of the session is just £25. You can pay via BACs (bank details provided on booking) or PayPal by using: http://paypal.me/healingtherapy If neither of these ways of making payment is possible for you let me know.
Booking for the session is on a first come first served basis. Email me at

[email protected]

and let me know if you wish to join us. I will send you an email with the zoom link the day before the meeting. Also view https://www.chakrapsychology.co.uk/on-line-group-sessions