YOUR AUTUMN CHAKRAS!
Posted on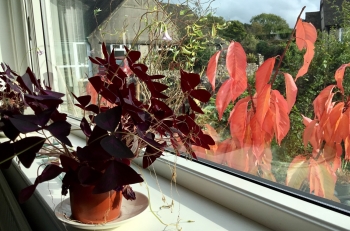 Autumn is upon us – seems quite sudden! Perhaps this is a time to draw back a little, take stock and prepare ourselves for more snuggly, cosy times. Shorter days for you may mean less time
to be out doing, though the wonderful colours of autumn certainly keep me focussing on what's going on outside in the natural world.

I wonder how our chakras are affected by the changing seasons? If we think about colour this autumn-time then the golden yellows, deep rusty orange and red colours and the changing greens of the trees and foliage will energise our solar plexus, sacral, root and heart chakras.
The soft whites and greys, milky blues of the skies, which can be deep, deep dark blue at night, feed our crown, throat and brow chakras.

Next time you go outside or look through your window where you may see a plant or a tree, or when you look at a house plant, take in its colour and see how it affects your experience of your body, especially at the locations of your seven major chakras. Breathe in the different colours,
one at a time, and have a few moments of wonder, and maybe peace.
(the photo above is of my window sill).